Audio Digital Type-C Wired Earbuds flat ear
Powerful mid-bass original sound, 360 degrees surrounded the sound field, enjoy Hi-Fi sound effect.
(Light & in-ear type, comfortable & painless to wear for a long time) Comfortable semi-in ear style, comfortable to wear, free to enjoy the video and listen to music.
(Multifunctional wired control, easy operation) Three-key wired-control design, easy to operate, one-touch to switch the music mode.
(Built-in microphone, HD call) High sensitivity microphone, clear calls, free to enjoy the live broadcast/karaoke/gaming sound effect, easy to control.
(Wide compatibility) Fully compatible with the Type-C port, plug, and play.
(High elastic TPE cable & durable) High elastic TPE cable, tangle-free, strong tensile & durable to use.
Joyroom Audio "Digital Type-C Wired Earbuds flat ear
VVITEC focuses on providing a wide variety of 3C accessories that are both stylish and unique in design. Introducing the Joyroom Audio "Digital Type-C Wired Earbuds flat ear," the latest in audio innovation. These earbuds are designed to provide a superior listening experience, whether you're at home or on the go.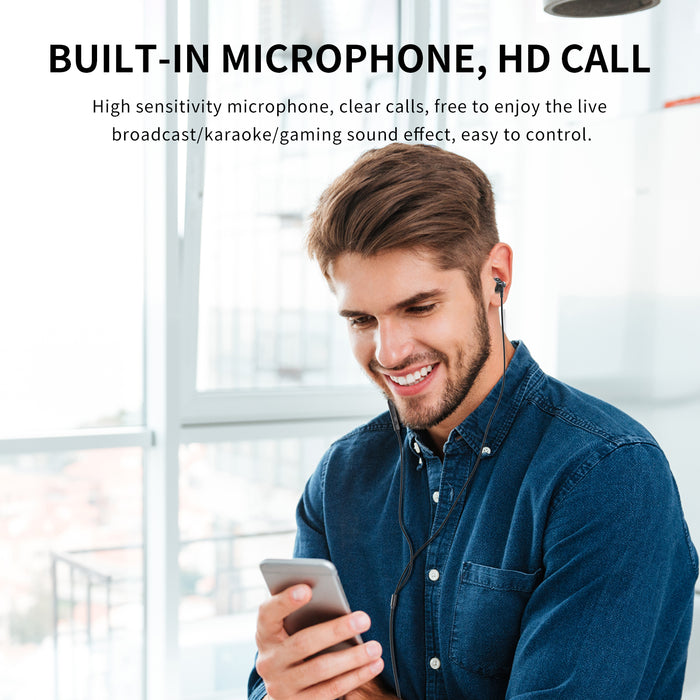 The Joyroom Audio earbuds feature a digital Type-C connection, which provides a stable and high-speed connection to your device. This means you'll never have to worry about dropped connections or audio lag again. The earbuds also come with a built-in microphone, so you can easily take calls without having to fumble for your phone.
One of the standout features of these earbuds is their ergonomic design. The flat ear design ensures that the earbuds stay securely in place, even during intense physical activity. This means you can enjoy your music while running, cycling, or working out without interruption.
The sound quality of these earbuds is exceptional. They feature a balanced audio output that delivers powerful bass and clear highs, making your music come alive. The earbuds also come with a built-in equaliser, allowing you to customise the sound to your personal preferences.
In terms of durability, the Joyroom Audio earbuds are built to last. They are constructed from high-quality materials that are resistant to wear and tear, so you can enjoy them for years to come.
With its advanced features, ergonomic design, and superior sound quality, the Joyroom Audio "Digital Type-C Wired Earbuds flat ear" is the perfect choice for anyone looking for an innovative and high-quality audio experience. Whether you're working out, travelling or just enjoying your music, these earbuds will not disappoint.